Brewing Success: How Artificial Intelligence Can Revolutionize Your Café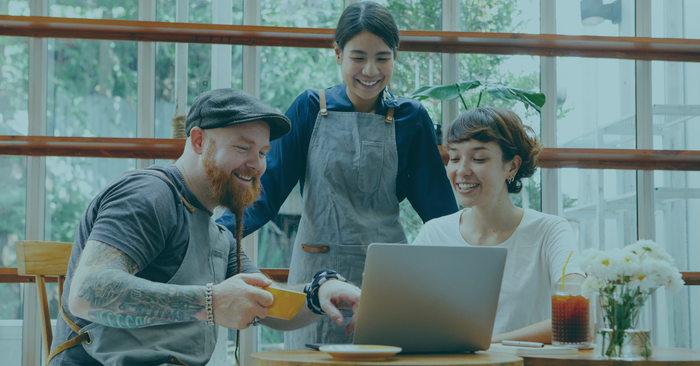 Brewing Success: How Artificial Intelligence Can Revolutionize Your Café
As we begin, let's address the elephant in the virtual room—the question that everyone reading this article is probably asking, or assuming: Did we use AI to help write this article? Yes. Yes we did. Of course we did, we would have been foolish not to! But AI didn't write this article.
Specifically, we used ChatGPT 3.5 (the current free version) to generate some ideas and text specific to our subject. Then we took those ideas and wrote the text that you're reading. This is the method that we recommend everyone use when utilizing AI, specifically for text generation. There aren't a lot of AI tools available to small business that are capable of working unsupervised. Gannett, who owns newspapers across the country, recently had to halt its "experiment" using AI to generate sports content based on game scores. Does that mean it was a failure and AI will never be capable of generating unedited content? Of course not. In Gannett's case they are (not were) using a 3rd party tool, Lede AI, to write the stories. Lede AI is just one of a rapidly growing selection of AI tools that will continue to develop and soon we won't know whether or not text we're reading was written with human oversight. The same is true of images, videos and a host of other digital assets.
That leads to the next elephant in the virtual room—this article is out of date. It was out of date the minute we sent it off to be reviewed, edited & published. We've been involved with technology longer than we'd like to admit is possible and never has a technology segment grown and changed as fast as artificial intelligence; not the PC, internet/web or bitcoin/crypto. The nature of AI means that we're using the tool that we've developed to improve on itself, often without our understanding. As that happens we're finding new and different ways to utilize it.
With that in mind, let's take a look at some of the ways you can use current technology to improve your café business.
If you've heard us speak at one or more of the over 100 Coffee Fest workshops we've done you've probably heard us mention that one of the most important factors for success in your café is Outstanding Customer Experience. How can AI help you deliver that?
Customer Sentiment
How do your customers feel about your store? You can (and should) ask them but you have to analyze the data. One way to do that is thru AI sentiment analysis tools. The most basic is a word cloud generator. For this article, we picked a local coffee shop and copied the text from all their Yelp reviews in 2023. It was about 30 reviews. Then we pasted that into an AI powered word cloud generator and got this: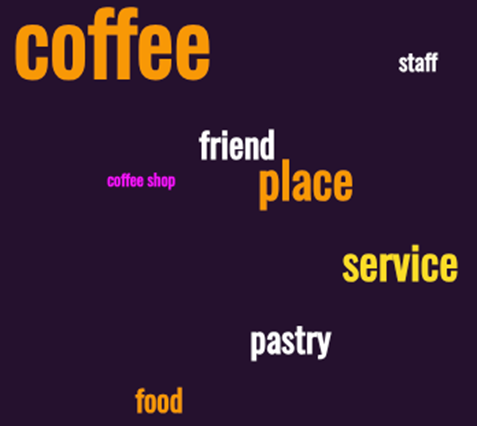 That's interesting but it's easy to tell the most common word is "coffee". Not very helpful for coffee shop feedback. So we deleted every instance of the word coffee as well as other words that didn't actually convey anything about the experience. After several iterations this was the result: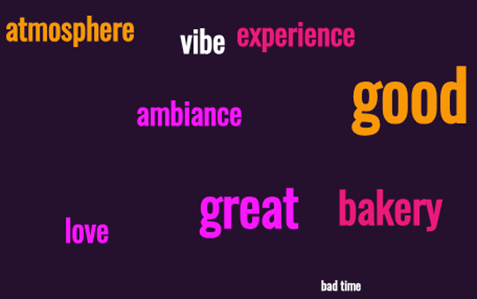 In all we spent about 20 minutes to generate it. We could probably refine it a bit more and it's not an in-depth view of our customer experience, but it does give a good overview of what's important as well as some less positive feedback ("bad time") that can be investigated.
Word cloud generators have been around for years, but many updated versions have integrated AI so that similar words or misspellings are factored in among other capabilities.
Many good word cloud generators are free online in order to entice you to use their paid tools. The paid tools, and even some of free ones, can give you more in-depth information on customer sentiment. If you're interested, try them out. A search will bring up several options. Search for "ai word cloud generator" or "ai sentiment analysis" or try other wording to find good options. The one we used for this is monkeylearn.com. [Note: We don't currently endorse, recommend or have any kind of relationship with any of the tools we used for this article.]
ChatGPT Sentiment Analysis
ChatGPT is a great broad purpose tool. You can find unlimited ways to use it and people have been incredibly creative. Not surprisingly, you can also use it to get a quick review of customer sentiment. We took the text from the previous word cloud experiment and entered this prompt on ChatGPT: sentiment "<pasted text>" (use the parentheses). The result was the following:
Positive Sentiment:
The initial part of the text contains positive comments, such as "Cheerful people" and praise for bakery items.
There is appreciation for the quality of the food, including the jalapeño popper grilled cheese.
Mention of good vibes, supportive of local independent businesses, and compliments to the employees who are respectful and kind.
Negative Sentiment:
Negative sentiment arises when the author discusses the attitude of some of the male counter staff. There's dissatisfaction with the lack of acknowledgment and a feeling of being treated as an inconvenience.
There are critiques about the atmosphere, describing it as dark, gloomy, and uninviting.
Complaints about pricing and perceived deception regarding the cost of coffee.
Issues with order accuracy and staff attitudes in some instances.
A mention of the environment being loud and crowded.
Overall, while there are positive aspects highlighted, negative experiences with staff and some elements of the environment contribute to a mixed sentiment in this passage.
That's a pretty decent overview of the reviews I submitted for it to analyze. It's interesting that the attitude of the employees seems to make the biggest impression in both positive sentiment and negative sentiment. When it comes to customer experience, the quality of your product is actually much less important than the attitude of your employees. In fact, we put product 4th in our list of priorities for retail success.
So how can you continue to use ChatGPT (or similar AI) to improve your customer experience? For all social media engagement, and especially less than positive customer reviews, it's important to respond quickly and sincerely. But you also want to take any emotion out of it. We have owned retail coffee & gelato shops and know that customers aren't always exactly fair or reasonable in their online feedback.
To craft a quick answer that removes me as the owner from the situation, I entered this prompt into ChatGPT: craft a brief answer to post online in response to "Negative sentiment arises when the author discusses the attitude of some of the male counter staff. There's dissatisfaction with the lack of acknowledgment and a feeling of being treated as an inconvenience.".
The response it generated was pretty bland but it did address the concerns:
We sincerely apologize for the negative experience you encountered with our male counter staff. Your feedback is invaluable to us, and we are committed to addressing this issue to improve our service. We appreciate your input and the opportunity to make necessary improvements.
Warm regards,
[Your Name]
[Company Name]
While that may sound a bit "corporate" it's at the minimum a good start. You can personalize it more if you want. However, I would like to point out a few positives. First, it's suggesting you put your personal name. That's a good idea so that people know you really are a person and not just a faceless entity. Second, it acknowledges that you've seen their review, are glad to know about their experience and want to improve. Third, it's non-offensive enough that there isn't anything they can take exception with or argue about.
You can experiment with it more and try different prompts. One of the advantages of using AI tools is that they are pretty quick to use so you have time to try different prompts and responses before you decide on one.
This just scratches the surface of possibilities using only 2 of a huge, and rapidly growing, list of options. We'll continue to experiment and share other tools & uses in future articles, in our in-person workshops and on our social media. Feel free to share how you're using AI to help in your business.
Mark & Jim
PerfectCube
@perfectcubedata