Digital Marketing Success for your Cafe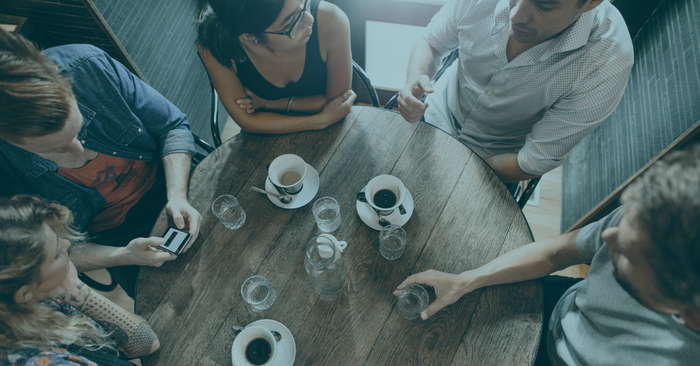 Social Media tells your story through engagement, connection and word of mouth. How will new customers find you? Google is where people find information and discover new business.
What's the Purpose of Social Media?
The purpose of social media is to tell your story, engage your audience and connect with new customers. Here are a few tips to follow for best social media practices to ensure your content is top-notch.
Tips for Digital Marketing Success for your Cafe
Keep captions short and sweet – there's no need for excess wording.
Second, use hashtags! Hashtags are relevant on social media algorithms and is a free way to get more impressions on your content.
Third, prompt people to act when you want, don't let the audience guess – tell them what you want and how you want them to take action.
Finally, design videos with sound on and off. Content needs to tell the story with or without audio availability, as this will diversify the content, setting you apart.
Knowing the purpose of social media is one step, now we can take a deeper dive into these tips and learn exactly why these elements are crucial to your business and how to implement them into your social media practices.
Grow with Hashtags
Hashtags are one of the most underrated social media tools. Using hashtags on posts and in comments is a great way to gain traction on social media posts.
Not all hashtags are made equal. Make sure to do your research to ensure that your hashtags are relevant and purposeful. Take notes of banned hashtags, as they should not be used.
Create a solid list of relevant hashtags and even try creating a personal branded hashtag for your café! Go follow and engage with relevant or branded hashtags to help increase your social media following.
Practical hashtags ideas for your coffee shop:
#coffeeshop #coffeelover #coffeetime #coffeeart #coffeegram #coffeeaddict #barista #baristalife #baristadaily #baristaskills #baristaproblems #drivethrucoffee #coffeestand #latte #latteart #coldbrew #chai #matcha #coffeefest
Create Meaningful and Informative Content for Successful Digital Marketing
Engage
Meaningful content shares a story and now is the time to share your story with your audience. Show how you give back to the community for example. You can do this by being open with the audience to show authenticity, trust and respect.
Another good example would be taking people on a virtual tour. Showing behind-the-scenes content is a great way to show the realness of creating "picture perfect" content.
Educate
How are you different? Tell the audience what makes your menu unique. Taking people behind the scenes in this regard helps make customers feel special and valued.
Customers need to know what sets you apart from other coffee shops. Don't make it a guessing game, remember to be overly obvious.
Excite
Keep the audience engaged by announcing new products or services in fun ways on social media. Make sure you share promotions, sales or any other exciting news with your audience.
Be creative with the content to keep it exciting! Finally, engage in topics that matter to your community. Take a stand and speak up for the community you created.
Tips to Improve Newsfeed Distribution
Create meaningful content. What you post should be accurate, authentic content that will provide something for your audience. Make sure any links you provide are high quality links and have been tested to ensure they work properly.
Publish frequently. Make sure your audience is seeing and hearing you!
Make posts timely.
Credibility, trust and relevancy.
Respond and react to comments!
*Always remember to follow standards for safe, respectable behavior.
Google Business
Everyone uses Google and one big way to stand out to your audience and reach a bigger following is with Google Business. This is a free online profile that allows you to manage the way your business appears on Google Search and Maps and is another way for you to create digital marketing success for your café.
Turn people who find you on Google Search and Maps into new customers with a free Business Profile for your storefront or service area. Personalize your profile with photos, offers, posts and more.
Reach more customers in 3 easy steps:
Claim – Create a Business Profile or manage an existing profile on Search and Map.
Personalize – Add essential information, such as, hours of operations, phone number, menu, photos and other details to get discovered by customers near you.
*Keep your listing updated with "special hours" in the info section anytime there is a disruption in your normal business hours (for example, holidays, closing early, etc.)
3. Manage – Share updates, respond to reviews and FAQs and connect with customers on Google.
Content Post Breakdown
There are different post types for content. Include what's new in-store, events happening and available offers to allow consumer awareness and engagement.
Many benefits go hand in hand with content posting on social media. Content posting allows you to directly communicate with local customers, improve customer experience with timely information and promote sales, specials, events, news and offers. The ability to engage with your customers is a central purpose for content creation.
Content should always be high quality. Avoid phone numbers, misspellings, grammatical errors, gimmicky characters, automated or distracting content.
At a minimum, posts should be made once every seven days, and at a maximum of one post per day. You want to stay top of mind for your customers, but don't want to overwhelm them with content.
Responding to Reviews—Good and Bad
Responding to reviews is a great way to communicate and stay connected with your audience and shows the realness of your business. When responding to reviews, remember to be nice, but don't get too personal.
Keep it short, sweet and to the point and remember to thank your reviewers! If you messed up, own up to it. Apologize when appropriate to reviews and remember to be nice, but not personal. Finally, be a friend, not a salesperson. You are here to do business, it's okay to make friends along the way.
Responding to negative reviews can be tricky but are still to be handled appropriately and professionally. Remember never to share personal information or attack them personally. Self-reflect and investigate the reasons behind the negative review. Be honest and don't be afraid to apologize when necessary. Show you are a real person by signing your name or initials in the response. Lastly, respond in a timely manner. Promptness, honesty and humility are respectable, remember you are a human, and that's a good thing.
How do you plan to use these tips to create a successful digital marketing plan for your café? Tell us below!
This blog post was created by Hannah Lain of Lotus Energy Drinks.