Five Steps to Drive Thru Success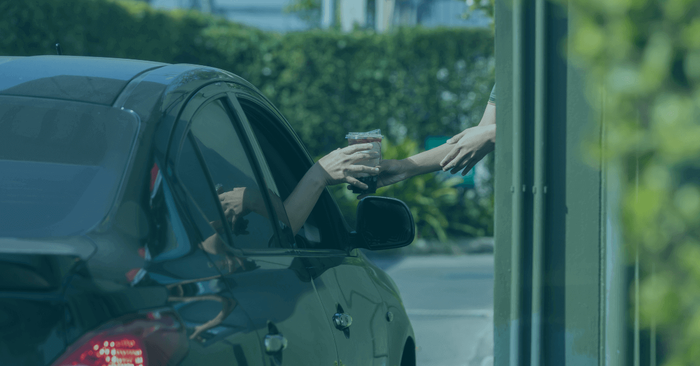 Opening a drive-thru can be a revenue and volume increasing tactic that can help expand your business in more ways than one.
5 Steps to Drive-Thru Success
Businesses are seeking new and innovative ways to deliver products to their customers and drive-thrus have become even more important to success. So how does one go about opening a drive-thru?
Continue reading to learn the five steps to drive-thru success!
Define Your Brand
Before you consider opening a drive-thru it is important to define your brand and understand your target market. A great question to ask yourself first is, why are you in coffee? Is it for the community, money, fun, people, or because it is your passion? Taking the time to write down these answers will help you discover your brand and stick to it:
What type of community are you trying to create?
What are your surroundings? School, downtown, business center, etc.
Organic or non-organic? Reusable cups or Styrofoam cups? Coffee centric drinks or sugar based drinks?
What groups are you focusing your marketing efforts towards?
Each of these questions will help you uncover who your main customer base is and if a drive-thru may be beneficial.
From there you can develop consistent branding that will drive customers to your business. Some ways to be consistent include: music, uniforms, greeting, art, décor, and your menu. Each of these areas should be tailored to your brand and target market, to create a strong image that will keep your customer engaged and returning.
So you've defined your brand and target market. Now it's time to get into the 5 steps to drive-thru success!
Part 1: Maximize Your Location
The first step to opening a drive-thru is making sure your location is easily accessible. Researching data on traffic flow can help you conclude this, whether you search for it on the DOT website, chamber of commerce, or simply sit and count cars passing. Data on the morning traffic flow is important because this is the busiest time for most coffee shops.
Other questions to ask yourself are:
Is the morning traffic on your side of the road?
Would you stop or drive to the next stand?
Is it easy to pull in and out of your business?
Is there room for at least four cars in the drive-thru?
After reviewing data for your location, a good benchmark is 60 to 300 customers for every 30,000 vehicles that drive between the hours of 6:00 am and 10:00 am. This will vary depending on the speed of traffic, ease of in and out, customer service, product prep/speed, and surrounding competition.
50-70% of drive-thru coffee business takes place between 6:00 am and 10:00 am.
Part 2: Equipment Matters
Once you have accessed your location, it is important to decide if your current equipment is suitable. Finding complementary equipment that will maximize efficiency, while taking up minimal space is a great solution for your drive-thru. Your Roaster should be able to help you choose the best equipment for your location and get competitive pricing.
Below are some helpful tips when selecting equipment for a new or longstanding coffee shop:
For Start-Up Businesses:

Espresso Machine

Drive-thru shops tend to be very small and space is a concern. Three group machines are great when space allows.
Having a 2 group machine at each window is another great way to ensure you have adequate pressure throughout the rush and to speed up customers' wait time.

Grinder

Automatic dosing grinders are more consistent and much faster. The amount of coffee to dose espresso comes out at 4-7 seconds rather than 15-30 seconds with a level doser. An auto-dosing grinder is also going to only grind on demand helping eliminate waste and stale coffee in the grinder shoot. No point in having a three group head machine if your grinder can't keep up.
Please invest in a good grinder! It is just as important, if not more important, than the espresso machine you use.

Ice Machine/Refrigeration/Blender

Choose the right size ice machine, consider if you're going to be making a larger amounts of ice blended or cold drinks.
Pick front blowing refrigerators and commercial blenders only.

For Existing Businesses:

Be sure to implement a preventative maintenance schedule.

Gaskets, water filtration, and stainless steel grinder burrs. Espresso machines and grinder should be properly cleaned every day.
"The Six-Month Rule": Every six months or so, replace your screens, portafilter baskets, gaskets, and grinder burrs.
Try to set up a maintenance schedule with your local espresso machine tech. Ask your roaster for local techs; they should be able to help you find a good one.
Update your current equipment - Grinders are often updated for consistency, efficiency, and less waste. You can cut down on labor costs and speed of your line if you invest in new automated equipment.
Part 3: Mastering the Basics
As with any business, you want to be sure to understand the numbers. A key formula used for this is the Break-Even Formula:
New Sales (30 day average; $500/day = $15,000) - COGS Cost of Goods Sold = Gross Margin
Then you can determine your net income by deducting your operating expenses from your gross margin.
Factors to consider with your break-even formula:
COGS includes coffee, cups, lids, small wares, syrups, bakery items, etc. It does not include labor, rent/lease, or marketing. Your COGS should equal 30-40% of gross sales.
Operating expenses include payroll (labor), rent, taxes, utilities, phone, etc. Your rent/lease should represent 5-10% of gross sales.
It is important to be mindful of your labor costs, which should be around 15-25% of your gross sales.

A high labor percentage can be negative on your return on investment, but beware, a low labor percentage can be detrimental to your return on investment and the future of your business.

Be mindful of waste - Keep a log for returns, broken items from vendor(s), sour milk, and more can help you stand on track and prevent issues from arising.
You can enhance your current business by doing the following:
Current Customers

Grow average ticket ring by upselling
Retention rate/keep current customers loyal (do not offend or lose customers)
Have high-quality service and products

New Customers

Keep lines down, know your sales by hour and staff accordingly
Promotions to entice new customers; Buy 1, Get 1 Free
Sign up for apps, like Joe Coffee
Offer relevant items: pumpkin lattes in the fall, infused energy drinks
Part 4: Menu
Creating a menu can be one of the most challenging aspects of your business. When doing so, keep in mind that a menu is an extension of your brand and should reflect the values and ideals you have set up.
Some things for creating the perfect menu include:
Your menu should include many visuals and/or minimal text & pricing.
Minimize the items on your menu - don't list every item that you carry!

Most customers will go to a coffee shop with an idea in mind. A menu should entice a customer to try something new or add an item to their regular order.

Drive-thru menus are unique to café menus in that you want to entice the customer to order quickly.
Do not overwhelm your customers with too much information or options.
Your menu should represent your brand and be different from the competition.
Your menu should include 80% beverages and 20% food items.
Lastly, your menu should highlight and entice customers to order items with the highest profit margins. Focusing on this aspect will increase your margins efficiently.
Part 5: Build a Team
Finally, building a skilled team will increase customer satisfaction and lead to more revenue. When hiring new team members, consider your business's culture, personality over skills, and positive character traits. Those you hire should be excited to work for your brand and remember technical skills can be learned. Finding employees that fit your brand will help maintain employee satisfaction, create a strong team environment, all while upholding the standard you present.
When interviewing candidates, some strategies to consider are group interview, early morning interviews, and challenging interviews. Interviewing early in the morning will help you determine how a candidate will function during your peak hours, while challenging them will allow you to see if they align with your brand and values.
A great question to ask prospects is, "Why do you want to work for my company?" Asking important questions like this will help a hiring manager gauge the level of interest and brand knowledge the candidate has.
Once hired, implementing an effective training program will set the bar for new employees and allow them to understand your expectations and culture.
Include the following areas in your training program:
Culture Foundation

Make sure that your team is constantly aware of the culture
Create "Buy-In" opportunities (have fun, do bar time competitions, and throwdowns)
Pick a book/podcase that everyone can read or listen to

Customer Service

Quality products go a long way, but it is necessary to include quality customer service
Reinforce the importance of customer service
Consumers rank good customer service and convenience #1

Coffee Foundations

History of coffee, origin details, roasting
20-man hours to produce a cup of coffee
Baristas are the ambassadors. It's their responsibility to showcase their coffee

Technical Skills

Some technical skills to consider are: espresso extraction, dialing in espresso, milk steaming, latte art, customer service under pressure, and equipment knowledge

Bar Flow

Enhance efficiency behind the bar, show how they can be a compatible coworker
Other things to consider:
Include a follow up training for new hires

Follow up evaluation after 3 months. There are many questions during that time and we don't want them reverting back to bad habits.

It takes 3 months for drive-thrus and 6 months for cafes.

Implement a continuous training for existing employees

Create internal specialized training programs
Bring in new faces to train
Quarterly examinations

Offer upward leadership opportunities

Move top performers into roles that highlight their strengths
Offer trips to top performers (Coffee Fest, trip to roaster, etc.)
Parking, cell phone stipends, etc.
Get creative - Summer BBQs, gym memberships, wine/beer/spirit tasting tour, audible accounts, etc.
It will save you money to invest in your current staff vs. hiring new staff!
That's it for our five essential steps to drive-thru success!
By defining your brand, optimizing your location, investing in high-quality equipment, creating an irresistible menu, and building a strong team, you can create a unique and memorable experience for your customers.
Remember to stay true to your brand, location and customer base, and never stop striving for excellence in every aspect of your coffee business.
Adapted seminar, presented by Mike Miller of Dillanos Coffee Roasters. Join Mike at a Coffee Fest show and learn more about our industry learning education here!