March 15, 2022
THOUSANDS OF RESTAURANT, FOODSERVICE AND SPECIALTY BEVERAGE PROFESSIONALS GATHERED IN NEW YORK FOR THE INTERNATIONAL RESTAURANT SHOW AND COFFEE FEST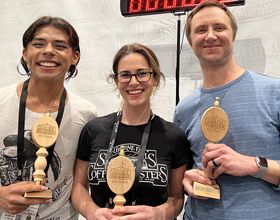 THOUSANDS OF RESTAURANT, FOODSERVICE AND SPECIALTY BEVERAGE PROFESSIONALS GATHERED IN NEW YORK FOR THE INTERNATIONAL RESTAURANT SHOW AND COFFEE FEST
NEW YORK, NY March 15, 2022 – After a two-year hiatus, Clarion Events Food & Beverage Group and the New York State Restaurant Association held the co-located International Restaurant & Foodservice Show of New York and Coffee Fest New York at the Javits Center in New York City last week. The two events brought together hundreds of exhibiting companies and thousands of restaurateurs, foodservice and specialty beverage professionals and provided hours of education through the Food & Beverage Academy, dozens of special events including culinary competitions, awards presentations, a visit from New York City Mayor Eric Adams and several networking opportunities.
"What a wonderful week, we are so happy that we were able to meet in person after a long two years. This was the last show held at the Javits Center in March 2020 before the pandemic began and the first one back with the Covid restrictions lifted," said Rita Ugianskis, Vice President, Clarion Events Food & Beverage Group. "Over the course of the three-day event, our attendees shared how much they enjoyed being back together at an in-person event and to be able to taste new food and beverage items, shake hands and learn together everything that makes a restaurant, food and coffee establishment operation successful. We received such positive feedback on the content in the education sessions and the opportunity to source new products from both shows and we thank our exhibitors, sponsors, speakers, attendees, media partners, supporting organizations and partners who helped to make these events a huge success."
"This annual show and expo are so important to the state's restaurant industry, which supports hundreds of thousands of hard-working New Yorkers, and we are thrilled we were able to be back in person," added Melissa Fleischut, CEO & President of the New York State Restaurant Association, sponsor of the event. "We were also thrilled to welcome Mayor Eric Adams to the event and give him an opportunity to address our members, meet with dozens of exhibitors and sample some of the new plant-based food and beverage items that were showcased in the exhibit hall."
Below are the highlights and the winners from the various events. For photos visit this DropBox Link.
The new Humanitarian Spotlight Award was presented via satellite to Nate Mook, CEO, World Central Kitchen for their outstanding dedication to providing nutritious meals to people in devastated regions. Nate accepted the award live from Lviv, Ukraine where he and WCK were on the ground feeding thousands of refugees escaping the war.
The Torch Award, given each year to an outstanding chef or restaurateur, was presented Anita Lo, a Michelin star Chef, Iron Chef Winner, and Top Chef Masters competitor, and author.
The Beacon Award which recognizes a woman leader who has truly served the industry through leadership, contributions, and inspiration was presented to Millie Peartree, respected A-list celebrity personal chef, successful restaurateur, and cupcake extraordinaire. Millie founded Full Heart Full Bellies, a charity that provides meals for children and families in need, due to COVID-19 related, canceled and limited food programs.
Best in Show for Pitch the Press was Prime 6 - https://www.prime-six.com/ for their highly dense charcoal providing over six hours of cook time. The following companies were also selected for having innovative new products.
Coffee Fest had two exciting competitions.
Latte Art World Championship Open - Sixty-four baristas competed, bracket style, sudden death format which featured head-to-head competition as "a match" between the competitors. The 1st place winner was Sean Ben-Zvi; 2nd place went to Matthew Bolchi; and 3rd place to Woo Jae Lee.
US Cold Brew Championships, was a brand-new competition where cold brewers presented a still cold brew and prepared a signature cold brew drink to the judges. The 1st place winner was Tio Conejo, 2nd place was Shelburne Falls, and 3rd place was Kru Coffee.
The "Best of Fest," voted on by attendees, Winner: Lotus Energy Drinks White Lotus; Best Non-Consumable: Planetary Design Airscape; and Best Consumable: Torani Puremade Salted Egg Yolk syrup
The Daniel Lee Giving Tree Award, presented to a latte artist who best embodies gentleness and kindness to others as voted by fellow latte art competitors, was presented to Walter "Proph" Alarcon of Brooklyn, New York, a good friend and co-worker of Daniel.
Center Stage, included culinary demonstrations by Chef Jonathan Scinto, Chef Mareya Ibrahim, Chef Jehangir Mehta, Chef Stephen Yen, Chef Maria Loi, Chef Gennaro Pecchia, Chef Anita Lo and Chef Millie Peartree.
The winner of the Rapid Fire Challenge: Plant Based Edition was chef Reinhold Teuscher of CRCS Culinary Solutions who won $1,000 for his Bami vegetable feast. The event was sponsored and moderated by Total Foodservice
The winner for the Hip Sip: Battle of the Modern Bartender Competition – Cocktails & Coffee was Kristo Tomingas of Butterfly Cocktail Catering. He beat out 4 other competitors with his drink a cappuccino martini and won $1,000 for the most creative and inventive mix of cocktail and coffee.
The Food & Beverage Academy expanded to offer workshops, the New York Seafood Summit Urban Aquponics, a keynote presentation by the NYSRA on Building a Better Future with Lessons Learned During the Pandemic, a food and beverage trends presentation, and dozens of sessions delivered by subject matter experts who spoke on a variety of important topics for restaurant and foodservice professionals, coffee shop owners and those involved with healthy foods.
At the close of the Show, City Harvest, the world's first food rescue organization dedicated to feeding the city's hungry men, women, and children were able to rescue 8,000 lbs. of food.
The 2023 International Restaurant & Foodservice Show and Coffee Fest New York will be held March 5-7, 2023, at the Javits Center in New York City.
The International Restaurant & Foodservice Show of New York (www.internationalrestaurantny.com) has provided thousands of industry professionals with access to the hottest menu trends, state of the art design and decor, a renowned education program, special events, and hundreds of leading vendors and purveyors dedicated to serving the restaurant & foodservice community, since 1993. The show is produced in partnership with the New York State Restaurant Association (www.nysra.org)
About Coffee Fest: Coffee Fest is a trade-only event serving the specialty coffee and gourmet tea industries since 1992. Coffee Fest draws more than 10,000 attendees, exhibitors and competitors a year, connecting regional coffee communities through regional tradeshow events especially designed for specialty coffee and tea professionals. For more details about Coffee Fest, to see the winners of Coffee Fest competitions and much more, visit www.coffeefest.com.
The shows are owned Clarion Events (us.clarionevents.com) produces 37 events across 13 sectors of both trade and consumer events. The Clarion Events Food & Beverage Group include the Western Foodservice & Hospitality Expo, Florida Restaurant & Lodging Show, the International Restaurant & Foodservice Show of New York, Coffee Fest and The NGA Show. Clarion Events acquired PennWell in early 2018, bringing 4 Tradeshow 200 events into the U.S. portfolio and super-charging the already rapid growth. Clarion Events has offices in Trumbull, CT; Kennesaw, GA; Boca Raton, FL; Tacoma, WA, and Fairlawn, NJ.